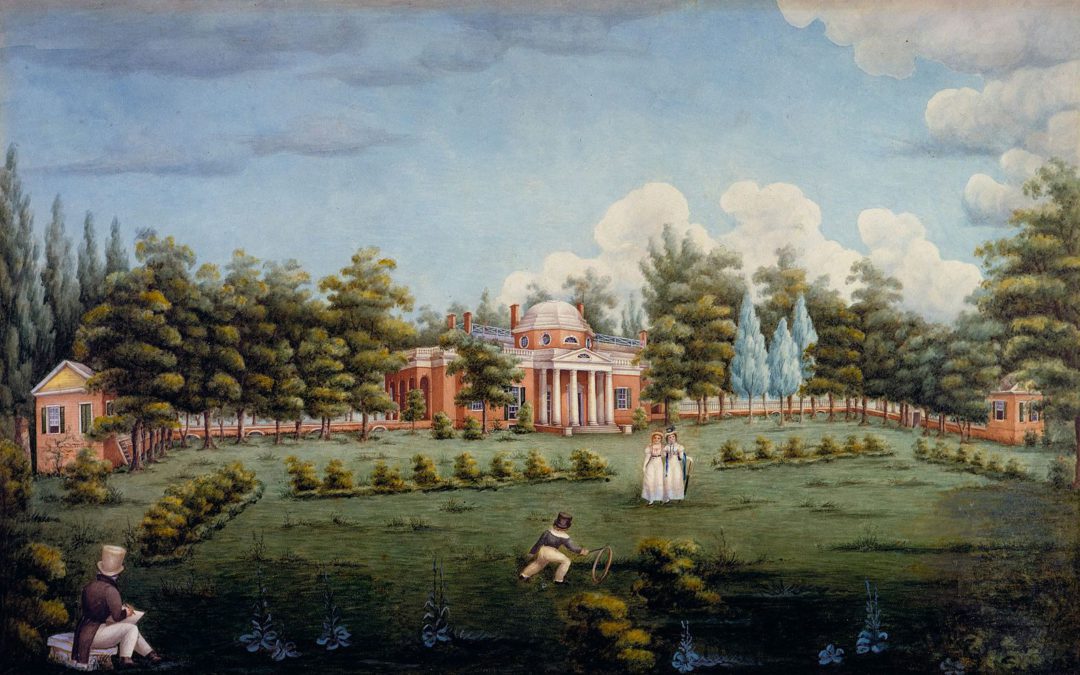 Thomas Jefferson the Sought-After Dinner Host, Generous to a Fault
It was said at the time there was no more generous and intriguing dinner host than Thomas Jefferson. John F. Kennedy was once hosting Nobel Laureates from the Western Hemisphere for dinner at the White House. He said, "I think this is the most extraordinary collection of talent, of human knowledge, that has ever been gathered at the White House — with the possible exception of when Thomas Jefferson dined alone."[1]
However, for Jefferson, it was a luxury to dine alone. People would travel from great lengths to meet with Jefferson, who would never turn anyone away. He would always engage with his dinner guests and entertain, sometimes even performing on his violin. Some around him worried that he was being taken advantage of, as his generosity came at an ever-burdening financial cost.
Jefferson's home in Virginia became a pilgrimage not only for intrigued countrymen but Presidents as well. The Reverend Peter Fossett recalled growing up as a slave boy at Monticello and rubbing shoulders with famous people such as General Lafayette and other luminaries that sought an audience with Jefferson.
"At Monticello we always had the house full of company. Not only did Jefferson's own countrymen visit him, but people from all parts of Europe came to see his wonderful home. On the first floor was Mr. Jefferson's study, called the "green room." Here such men as Madison, Monroe and others were wont to discuss the problems of the day. I was too young to know much about these great men, but I remember them and being in the same house with them…"[2]
President Barack Obama and President François Hollande of France tour Monticello, February 2014 (source link)
Former Monticello slave Isaac Granger Jefferson described how there were times where tables were set for up to thirty-two guests.
"He never would have less than eight covers at dinner—if nobody at table but himself: had from eight to thirty two covers for dinner: plenty of wine, best old Antigua rum & cider: very fond of wine & water. Isaac never heard of his being disguised in drink."[3]
Isaac also told how Jefferson would at times play for guests on the violin after dinner but "never danced nor played cards."
Marine Guard at the White House, possibly 1801 (source link)
It wasn't until Jefferson was elected President that his name and fame became ubiquitous, which only increased the interest to dine with such a great man. Monticello overseer Captain Edmund Bacon noticed how people of all kinds were flocking to dine with him when Jefferson became President, and how he indulged them in conversation sometimes for hours upon end.
"I visited Mr. Jefferson at Washington three times while he was President…. Mr. Jefferson often told me that the office of Vice-President was far preferable to that of President. He was perfectly tired out with company. He had a very long dining-room, and his table was chock-full every one of the sixteen days I was there. There were Congressmen, foreigners, and all sorts of people to dine with him. He dined at four o'clock, and they generally sat and talked until night. It used to worry me to sit so long, and I finally quit when I got through eating, and went off and left them."[4]
Bacon went along in the morning to witness the process Jefferson's staff went through each day to acquire the provisions needed to prepare the dinners. Bacon also noted how the Presidential salary was lacking at the time, so Jefferson has to pay out of his own pocket to accommodate all the guests.
"The first thing in the morning there, was to go to market. There was no market then in Washington. Mr. Jefferson's steward was a Frenchman named Lamar. He was a very smart man, was well educated, and as much of a gentleman in his appearance as any man. His carriage driver was an Irishman named Dougherty. He would get out the wagon early in the morning, and Lamar would go with him to Georgetown to market. I have all my life been in the habit of getting up about four o'clock in the morning, and I went with them very often. Lamar told me that it often took fifty dollars to pay for what marketing they would use in a day. Mr. Jefferson's salary did not support him while he was President."
Fifty dollars in the years 1801-1808 was the equivalent of $1,100 today, which was potentially costing Jefferson the equivalent of over $400,000 a year to feed all the guests that came to see him at the White House. For his eight years in office, this would have cost Jefferson the equivalent of over $3 million. This pattern continued after his second term ended and he returned to Monticello. Bacon was heartbroken that Jefferson was too much of a gentleman to turn them away, and felt some people saw it as an opportunity for a free meal.
"After Mr. Jefferson returned from Washington, he was for years crowded with visitors, and they almost ate him out of house and home. They were there all times of the year; but about the middle of June the travel would commence from the lower part of the State to the Springs, and then there was a perfect throng of visitors…. They pretended to come out of respect and regard to him, but I think that the fact that they saved a tavern bill had a good deal to do with it, with a good many of them."
Similar to Jefferson's time at the White House, massive amounts of provisions were needed to feed everyone. In addition, they also provided lodging for visitors, which at times were said to have numbered over 50 people staying overnight. Bacon described the struggles to accommodate so much room and board:
"I have killed a fine beef, and it would all be eaten in a day or two. There was no tavern in all that country that had so much company. Mrs. Randolph [Jefferson's daughter], who always lived with Mr. Jefferson after his return from Washington, and kept house for him, was very often greatly perplexed to entertain them. I have known her many and many a time to have every bed in the house full, and she would send to my wife and borrow all her beds — she had six spare beds — to accommodate her visitors."
Monticello Vegetable Garden (source link)
Additional logistical challenges and costs were associated with accommodating the visitors:
"They travelled in their own carriages, and came in gangs — the whole family, with carriage and riding-horses and servants; sometimes three or four such gangs at a time. We had thirty-six stalls for horses, and only used about ten of them for the stock we kept there. Very often all of the rest were full, and I had to send horses off to another place. I have often sent a wagon-load of hay up to the stable, and the next morning there would not be enough left to make a hen's nest…. I finally told the servant who had charge of the stable, to only give the visitors' horses half allowance. Somehow or other Mr. Jefferson heard of this; I never could tell how, unless it was through some of the visitors' servants. He countermanded my orders. One great reason why Mr. Jefferson built his [other] house at Poplar Forest, in Bedford County, was that he might go there in the summer to get rid of entertaining so much company. He knew that it more than used up all his income from the plantation and everything else, but he was so kind and polite that he received all his visitors with a smile, and made them welcome."
But it wasn't long before word got out about Jefferson's Poplar Forest retreat house, and soon the crowds were finding him there. Peter Fossett reminisced how Jefferson was entertaining guests during the period when he was designing and building the University of Virginia:
"His summer residence, Poplar Forest, where he spent three months in each year, was a Mecca for all the great men of the world, and the Indians also. In those days they ran the wisest and best men for office, and not the most unscrupulous, as now. At 10 o'clock every day he went to the University and returned at 2 for dinner. Many times have I ordered his horse, a large chestnut bay, which bore the name of Eagle. As for the social enjoyment of the men of those days the people of this time do not begin to come up to it. Weddings, parties, barbecues and the like, even the slaves participated in."[5]
Edmund Bacon grew tired of accommodating the endless throngs of visitors and seeing the financial toll it was taking upon Jefferson. He saw Jefferson as the ultimate southern gentleman who could turn no one away, even if it broke him.
"I can assure you I got tired of seeing them come and waiting on them. I knew just about as much about Mr. Jefferson's business as he did himself, and I knew that he could not stand it long. You know that he failed [financially]. This was after I left him, but I knew that it was bound to come…. I was very sorry to leave Mr. Jefferson; but I was more willing to do it, because I did not wish to see the poor old gentleman suffer, what I knew he must suffer, from the debt that were pressing upon him."
In 1822 Bacon decided to leave Virginia to live in Kentucky. Jefferson was in the evening of his life, and Bacon described the memorable moment of their last meeting together:
"When we parted, it was a trying time to me. I don't know whether he shed any tears or not, but I know I shed a good many. He was sitting in his room, on his sofa, where I had seen him so often, and keeping hold of my hand some time, he said, 'Now let us hear from each other occasionally;' and as long as he lived I heard from him once or twice a year…. I am now (1862) in my seventy-seventh year. I have seen a great many men in my day, but I have never seen the equal of Mr. Jefferson. He may have had the faults that he has been charged with, but if he had, I could never find it out. I don't believe that, from his arrival to maturity to the present time, the country has ever had another such man."
Sources:
[1] John F. Kennedy, "Remarks at a Dinner Honoring Nobel Prize Winners of the Western Hemisphere," 29 Apr. 1962. Published by Gerhard Peters and John T. Woolley, eds., American Presidency Project.
[2] The Rev. Peter F. Fossett, ONCE THE SLAVE OF THOMAS JEFFERSON, New York World, January 30, 1898
[3] Jefferson, Isaac Granger, Memoirs of a Monticello Slave, University of Virginia Press for the Tracy W. McGregor Library, 1951
[4] Hamilton W. Pierson, Jefferson at Monticello: The Private Life of Thomas Jefferson (New York: Charles Scribner, 1862), 70-71. See Bear, Jefferson at Monticello, 71.
[5] The Rev. Peter F. Fossett, ONCE THE SLAVE OF THOMAS JEFFERSON, New York World, January 30, 1898